Tips And Tricks For Choosing The Right Area Rug To Decorate Any Room
An area rug is the best decorative and practical addition that will undoubtedly change the look of your room. You can use area rugs to differentiate rooms in an open floor plan, to add elegance to a dull space, or use it to protect costly hardwood from the normal wear and tear.
These tips and tricks will help you choose the right rug for any room, regardless of the reason for decorating with area rugs.
1. Size
Your rug should be a little smaller than the area covered by the furniture. Also, area rugs should be big enough to set the space of gathering while allowing circulation space. Your rug may vary in size significantly, depending on the area and the designer. A good rule of thumb is to place the front legs of chairs and sofas on the rug.
2. Patterns
If you want to show more of your adventurous side, all you need is an area rug. It is a great way to decorate your room. Bold and colorful patterns are great for adding a bit of an unexpected quality to your room, but they may take you out of your comfort zone. Although you will want to select colors that will blend with other design elements of your room so that your rug will match your overall décor.
3. Lifestyle
Your pets and kids can have a considerable impact on the lifespan of your area rug. When it comes to fabrics and colors, it is of primary importance to think about your lifestyle before you choose a carpet. Wool rugs can easily be cleaned while the patterns can help hide hair, stains, and spills from shedding pets. On the other hand, the delicate fabrics are appropriate for more formal living areas.
4. Border
Do not cover your floor entirely if you are making use of an area rug in a room. It is because the original floors you have will make a beautiful border for your carpet. For some of your flooring to show, take away at least 9-12 inches from your baseboards, even when you want to use a large rug.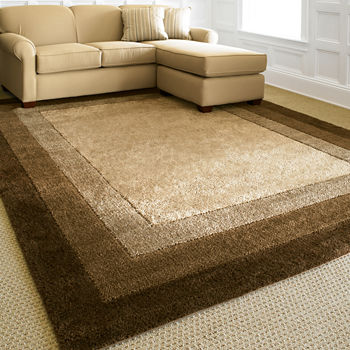 5. Shapes
You will find an appropriate area rug, regardless of the shape of your room. A long, narrow room can even benefit from a rectangular rug. Without a doubt, the shape of your area rug will depend on the furniture in the room just as much as the size and shape of the room. For instance, regardless of the form of your room, a long dining room table is complimented nicely by a rectangular rug. Moreover, don't be afraid to use your creativity when you are looking for area rugs. They are available in different shapes such as abstract, rectangular, square, oval and circular shapes among others.
6. Safety
To prevent movement of the rug, always use a non-slip rug pad underneath your area rugs. Make sure the rug pad is about 2 inches smaller than the rug so that it does not show through.
Final Thoughts
Decorating your home with an area rug will make it a paradise on earth. However, you must find specific factors to choose the best rug for your home. You must consider safety, the shape of the room, patterns, shape, border, lifestyle, and size of your area rug before you choose one for your floor.